Our Swimsations Squad Training program
Swimsations at Goonellabah is a fully accredited squad training program with qualified and well-trained staff who provide professional coaching for those who wish to pursue competition swimming.
We offer the highest quality squad training so your child can develop into the best swimmer they can be while being supported and encouraged every step of the way.
Swimsations Squad operates at Goonellabah Sports & Aquatic Centre, which is a heated pool.
The program is child-centred and educationally sound, and is registered with Swim Australia and Austswim. We have morning and afternoon classes Monday to Friday as well as Saturday morning classes.
We cater for:
Children aged from toddlers to teens (based on ability)
School term programs
School holiday intensive programs
Swimsations Learn-to-Swim Coordinator Elizabeth Watts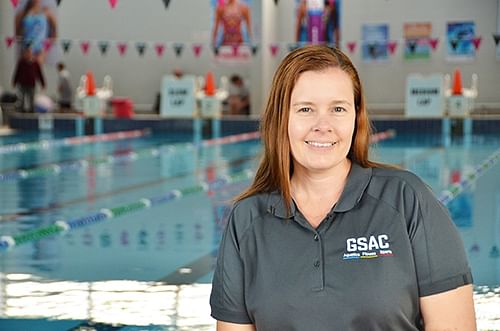 All teaching staff are Austswim accredited and have been through a Swimsations in-house training program to ensure they are delivering quality programs.

How to enrol
Book your free swim assessment to see what level of the program you should be in. Phone us on 6625 5370 to arrange.
Speak to reception (in person or over the phone) to find the time and day that is right for you.
Come in to the centre, fill out an enrolment form and pick up your welcome pack and swipe card.
Goonellabah Sports & Aquatic Centre is committed to safety
Goonellabah Sports & Aquatic Centre provides a child friendly and child safe environment for children who attend our centres. We are always working to improve our practices to ensure this occurs. We would like all parents to please take note of and abide by the policy below to ensure your child is kept safe while they attend our swimming program.
Our policy for swimming pool attendance is that children who enter our pool area who are under the age of 12 must be accompanied by a person over the age of 16, and must be supervised at all times. This supervision is either by a responsible carer or swim school staff member while students are in lessons. To help us with supervision requirements, we outline below the policy for our squads.
All children under 12 who are in squad programs must be accompanied into the pool by a responsible carer over the age of 16, taken to their teacher at the start of the lesson and picked up from their teacher at the end of the lesson. For one-hour and longer programs, carers are permitted to leave the pool area but must return to collect their child from the teacher at the completion time of the lesson. On pick up all carers must come into the pool area to collect their child. Children are not permitted to leave the pool area on their own or wait to be collected outside the building.