We offer flexible membership options to suit your needs
SWITCH offers a variety of membership and payment options:
Pay casually per visit.
Visit packs (valid for 12 months).
Three, six or 12-month memberships.
Gym-only membership or premium memberships available. Premium memberships include full access to gym, Group Fitness classes and pool.
No joining fee.
Members can access facilities during staffed hours Monday to Friday 5.45am to 7pm, Saturday 6.45am - 3pm and Sunday CLOSED
Fortnightly direct debit or upfront payment (please note: members who choose to terminate their contract prior to expiration are required to pay an exit fee rather than paying out the remainder of their contract).
Gift vouchers available for special occasions.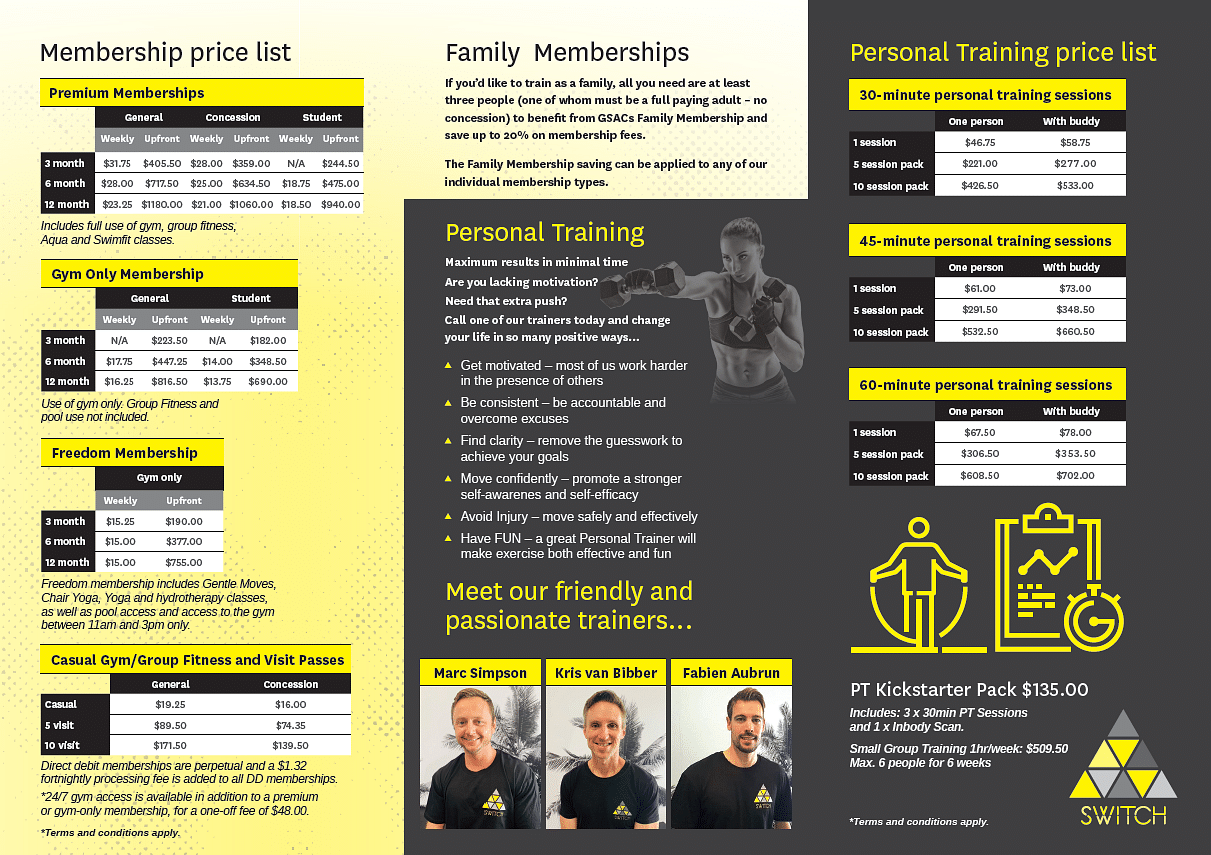 Purchase Memberships Online
You can now purchase our memberships online. Note please that there are NO REFUNDS for "change of mind"
SWITCH UPFRONT MEMBERSHIPS
SWITCH DIRECT DEBIT MEMBERSHIPS
GSAC Online - Online Membership Services
Login to Active Carrot (GSAC Online) using your registered email address
Book in to group fitness classes
Process payments to your account
Renew your membership
Login online at GSAC Online Members Portal
24-hour membership (optional):
A one-off $48.00 charge for access lanyard and swipe card to gain 24-hour access.
Can only be purchased at the centre.
Quick and easy induction process applies for all 24-hour users to ensure all terms and conditions are understood.
24-hour access is supported and protected by local security company Summerland Security.
Personal Training Sessions:
A personal Trainer can act as a doorway to better health and personal growth
Choose a trainer - select the type of guidance that will benefit you
Receive individualised attention and support
Get maximum results in minimum time
Speed your injury recovery
Stay motivated to be the best version of you
Purchase PT Packs Online at: Purchase Memberships Online
For more information and pricing, phone our friendly staff on 6625 5370.